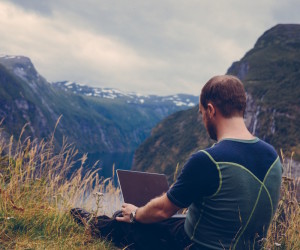 Digital nomads and the rise of remote working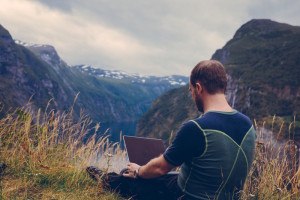 Digital Nomads (DN): this term has become increasingly popular over the last few years and refers to people using communication technologies to earn a living while travelling the world. Just Google the term and you'll find many blogs telling you how to live the digital nomad lifestyle as well as travel blogs with accounts of bloggers making money while being on holiday. But, in this digital day and age you don't have to be a blogger in order to be a Digital Nomad.
By now there are many people who decide to take the plunge and become a Digital Nomad. Most Digital Nomads are employees in the tech industry or start-up scene or work as freelancers. The thing they have in common: they don't need much more than an internet connection to do their job. This all sounds very modern and appealing, but it comes with a downside, the lack of interaction with other people in a social environment.
But of course, modern technology offers several solutions for this as well. There are a range of different online forums aimed at the Digital Nomad, such as Nomadforum, an online forum that comes with a chat function and brings together the modern nomads from around the globe while also providing information about the best locations, local infrastructures and reliable renting options. There was even a community called Find a Nomad which allowed nomads to locate other nomads in the same city so they can get in touch. Since 2014 there is also an annual Digital Nomad Conference called DNX. And as a little bonus Korean film maker Youjin Do is about to publish her documentary "One Way Ticket" about the digital nomad lifestyle. In other words, this topic keeps getting hotter!
Remote working could well be the future. There already are several young companies that have built up their entire workforce out of remote employees. One of the most prominent of these is software company Buffer, offering a software program that allows companies to plan online content. Buffer started on the sidelines but has rapidly grown and now has 60 employees that live and work in over 30 cities in four different continents. Twice a year all employees get together in one location to work, network and to have some fun.
As a modern company working in the technology and communication industry, we decided to give one of our own employees, Sarah, a chance to work for us remotely for a few months. We have asked her to wrap up this blog post with an account of her experiences while living the nomad lifestyle in Europe. Sarah says: "I wanted to become a Digital Nomad after reading many articles about this subject that made me very enthusiastic and because I was planning to travel for a while. In the beginning I was completely convinced, but by now I'm rather more ambivalent. I really liked the greater flexibility: perhaps working on a Sunday night but then traveling on Monday morning. However, this also made it difficult to set up a routine because I was constantly on the road."
"I was definitely able to do my job in a shorter amount of time as I didn't have all the distractions from the office. At the same time I also missed the office and mainly the ability to directly discuss things with my colleagues. Online platforms such as Slack are great but they can't really replace direct face-to-face communication. A co-working space could definitely have made a difference in that sense, but didn't make sense for me as I was only travelling for a few months.
In the end though, everybody has to decide for themselves if the nomadic lifestyle suits them and how they wish to live it."
Comments? Feel free to leave them below.